When it comes to partying hard, India has its fair share of the game. There won't be excised this year, cause we are listing down the top 10 cities for New Year and maybe! Your city is one of them. Let's go!
1. Goa:
If it's party it's Goa. The party capital of India never settles. The new year here is psychedelic. Club Cubana, Baga Beach, Vagator the list will go one. If you are in the vicinity of Goa, think no further, a grand party is waiting for you.
2. Pune
The city of youngsters, Pune has got some surprising parties up its sleeves. Sunburn, The Flying Saucer, Swig, The Orchid are among the many locations hosting a demented party.
3. Mumbai
The glitz and glam of India, nobody hosts a more exotic party than ​Amchi Mumbai​. With Kitty Su, Novotel Mumbai, NSCI and more, there is a party in every corner of Bollywood.
4. Daman & Diu
Islands but not estranged to parties, Daman & Diu is carpet with DJs, Drinks and Dance. The Deltin, Cidade De, among many others host one of the most nerve-wracking new years parties.
5. Bangalore
Not the party but the IT capital. So what? Bangalore knows how to party and it parties hard.
High Life at Hilton, Blockbuster New Year Bash at Brigade Road, Sky Lamp at Kuvathur, Atmosphere at Taj, you name it Bangalore has. So, put your party pants cause Bangalore will entice you.
5. Delhi
The capital of India lives and breaths party. Hosts like Sharry Mann at JLN Stadium, DJ Rohyth at The Bottle Yard, Funky Boyz Band & Singer Sonali at The Leela, Skull Louder Music Festival at Harnaam Palace Banquets are, to say the least. Farewell 2018 in style, Party in Delhi.
6. Manali
Most underrated NY party host, Manali throws a party like no other. Party with a view at Manali. Khyber, The Lazy Lounge Dog, Chopsticks host new year parties that are "on point".
7. Chandigarh
There is no party like a Punjabi party. If you are in Punjab, Chandigarh is your spot for this years
bash. Peddle 35, Golden Tulip Hyatt Regency, Para Night Club are amongst the most happening party places in Chandigarh.
8. Andaman & Nicobar
Our list has another set of islands. You'll be taken aback by the beach parties Andaman and Nicobar throws. Unlimited booze, music and the sea, perfect to bid adieu 2018 in style.
9. Pondicherry
Pondicherry blossoms every new year's eve and so it will on the evening of 31st, 2018. Port Beach party, Catamaran beach party, Sunkissed 2019, the list will go on and on. Have the best NY beach party of your life. Pack your bags cause you are going to Pondicherry.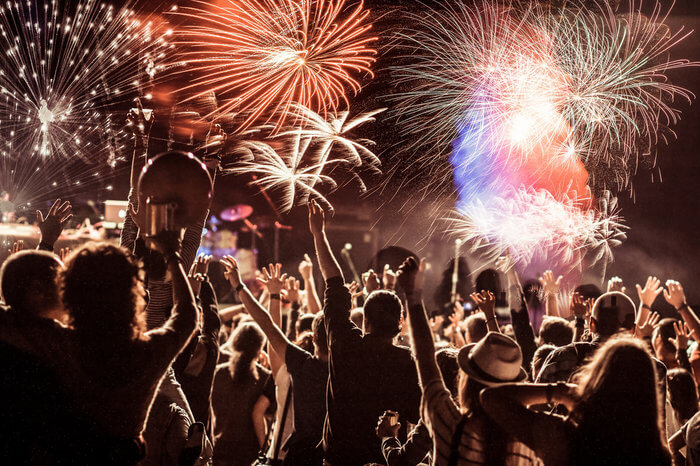 These were our top 10 picks for all you party freaks scouting for a new junction. Have a blast wherever you are. Enjoy your NY eve with family, friends and your closed ones, cause party is where people are. Welcome 2019 with loads of positivity and a lot of breakable resolution. Happy New year!